Opening your MyHeritage DNA results for the first time can be incredibly exciting. We created our fun "spinning globe" animation to enhance your experience of that moment — and many of our users enjoy it so much, they want to share it with their friends, family, and social media followers!
See for example this video from Haiyan, who thought she was 100% Chinese, but got quite a surprise at the end:
Or this one from Ogan Cihan Öcal, who discovered that he is truly a citizen of the world:
View this post on Instagram
I want to do this too! How do I share my MyHeritage DNA results?
There are a few ways you can share your Ethnicity Estimate results:
As a link: Click the Share button on your results to share the animation as a link
As a video:

Download the video from the MyHeritage website and upload it to your video sharing platform of choice

As an image: Take a screenshot of your results and share the image
Sharing your results as a link with the Share button
A Share button will appear when you review your Ethnicity Estimate on the website or the app. This button allows you to share the video to Facebook or Twitter as a link:
However, many users prefer to share the animation directly as a video and not as a link, especially on platforms like TikTok or Instagram.
Sharing a video of your MyHeritage DNA results
You can download your Ethnicity Estimate video directly from the MyHeritage website from your desktop computer or mobile device. Here's how:
From a desktop computer:
Access your Ethnicity Estimate by selecting "Ethnicity Estimate" from the DNA menu in the main navigation bar. At the top right of the ethnicity map, you'll find a download icon. Click this icon to create and download the video.
Make sure to keep the page open until the download is complete. Once your video is finished downloading, you're welcome to share it on your social media channels. Below is an example of a downloaded ethnicity video:
From your mobile device:
To download your ethnicity video using your mobile device, visit MyHeritage.com in your browser and log in. Tap the menu icon on the top left of the page and select Ethnicity Estimate in the DNA section: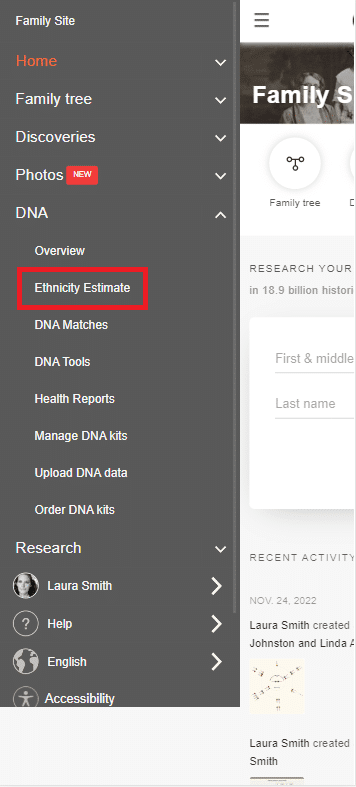 Tap the "Play" button, and select "Download Ethnicity Video" from the menu that opens.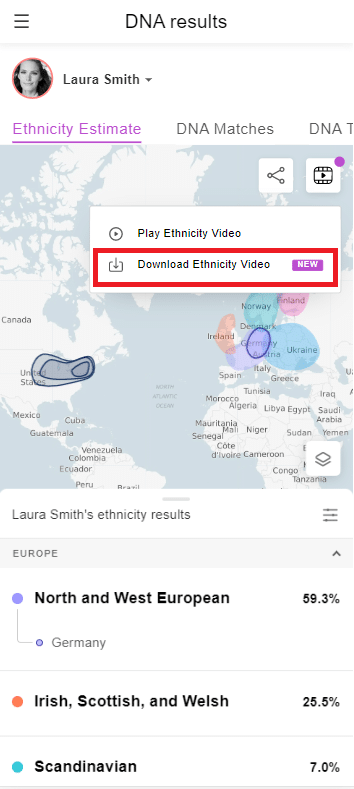 Once again, make sure to stay on the page until the video download is complete. Once the video is ready, you can share it in any way you like.
Sharing your Ethnicity Estimate as an image
If you'd like to keep it simple, you can take a screenshot of your Ethnicity Estimate and share it as an image. Most devices have shortcuts for taking screenshots — for example, pressing the side button and volume up button simultaneously on an iPhone, or the Print Screen (PrtScn) button on Windows. There are also apps that can be used to take screenshots that may be built in to your system or downloadable for free.
To share your Ethnicity Estimate as an image, access it from your browser or app, take a screenshot, crop and edit it however you like, and share it.
A note on privacy
You are of course welcome and encouraged to share your own Ethnicity Estimate results, but please don't share any results that reveal personal information about anyone else — including your own DNA Matches. If you wish to share a screenshot or screen recording of your DNA Match list, you must black out or otherwise censor details that reveal personal information, such as profile photos and names.
Enjoy sharing your results!
If you share your results on social media, feel free to use the hashtag #myheritagedna and to tag us — we love seeing your results and we might even react or comment!
See below for a couple more examples for inspiration!
View this post on Instagram