MyHeritage offers three different platforms for working on your family tree: the online website, the mobile app (offered for both iOS and Android), and our software, Family Tree Builder.
This article focuses on useful tools available in Family Tree Builder that you may have missed. These lesser-known tools can help you better research your family history and help you maintain your family tree.
Task management
When managing a long term research project, you may start to add information to your family tree, without having all the details in place. 
In Family Tree Builder, you can document tasks and assign them to yourself. If you are collaborating with other family members, you can tag them in the task, and they will be notified about it.  
A task can be opened in three different ways:
Under any profile, go to Person > Tasks

To see all tasks, go to "View" > Tasks 

In the card of any person to whom you assigned a task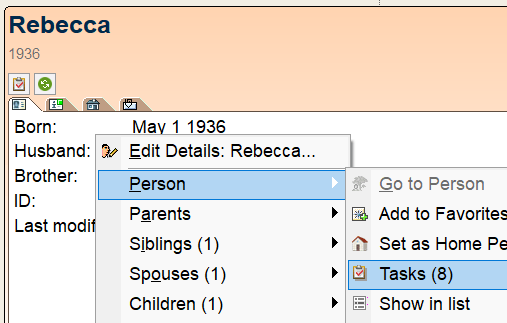 When you have a day available for researching your family history, viewing the full tasks list is a great place to start. 
If you want to focus your research on a specific person, you can easily open the tasks list and view those specific tasks that involve that individual. 
Profile list
Family Tree Builder zooms in on only 1-2 profiles at a time. This is to help you concentrate and focus your research as much information as possible, in as accurate a way as possible. 
Unfortunately, this makes it difficult to see the "full picture", and view everyone in the tree at the same time. The list of all family tree profiles in the family tree can be found on the left of the tree, and this can help. Clicking on one of the names will immediately bring that person into focus. 
Working offline
The MyHeritage mobile App and your family site on www.myheritage.com are only accessible with a working internet connection. Family Tree Builder, however, allows you to edit your family tree normally while you are offline and the changes are saved locally on your computer. You can take your computer with you while traveling or on-the-go. If you are without a stable connection, no matter where you are, you can keep working on your family tree.
The MyHeritage team took advantage of this useful feature in Family Tree Builder, and used the Family Tree Builder offline, when the team traveled to visit isolated tribes to document their family history to preserve it for future generations. Read more about it here: https://www.tribalquest.org/
Charts and reports
MyHeritage offers the same selection of charts and reports both on the online family site and in Family Tree Builder. Family Tree Builder allows slightly more flexibility when creating charts.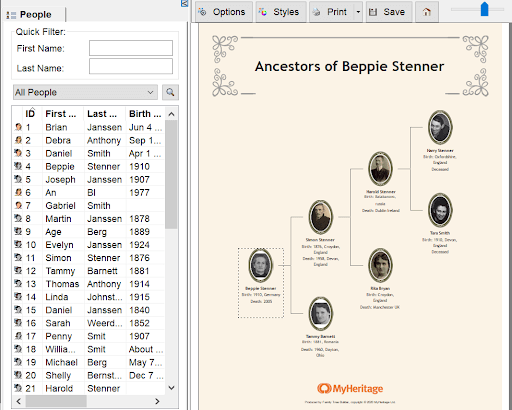 In Family Tree Builder, click on someone's name in the left-hand panel list to generate a chart for them.
The chart wizard presents a list of chart types to choose from. On the family site, you cannot edit the charts once they are created. In Family Tree Builder, you can make some crucial adjustments to the chart: 
Double-clicking on a profile card in a chart will open the editing window where you can edit that person's information. 

You can also slightly adjust the locations of the profile boxes, by dragging them. 

You can delete text from the boxes if there is information that you don't want to display. 
Reverse side of photos
Many old photos have text written on their reverse side. Perhaps it includes the names of the people in the photo, the date it was taken, or maybe a dedication or signature. This can be valuable genealogical information that we would want to attach to the photo itself. In Family Tree Builder, you can add the scan of the back of the photo to the same photo file.
Let's take this picture as an example: 

The reverse side holds significant information about the people appearing in the photo. After uploading the picture into Family Tree Builder, you can open the photo information. 


Under the Reverse Side tab, you'll see the option to upload an additional related photo. In this particular example, someone added text in German describing who was in the photo. After uploading it in the Reverse Side tab, it looks like this: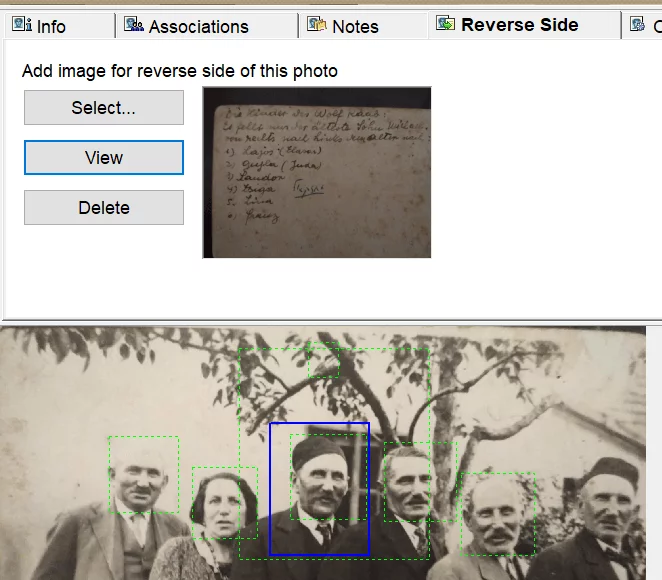 Manual backup
Family Tree Builder allows you to create local backups of your family tree and manage them on your own device. You can then upload and save them elsewhere. You'll be able to sleep better at night, knowing that your family tree is safe! 
The backup can be done easily by clicking on "File" and choosing "Back up project"
Advanced GEDCOM Options
Family Tree Builder has some advanced features for GEDCOM files. You can import a GEDCOM file from the designated tool under "File".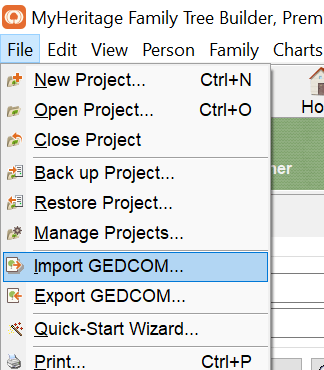 You can choose whether to merge the imported GEDCOM to an existing tree or to upload it as a new project.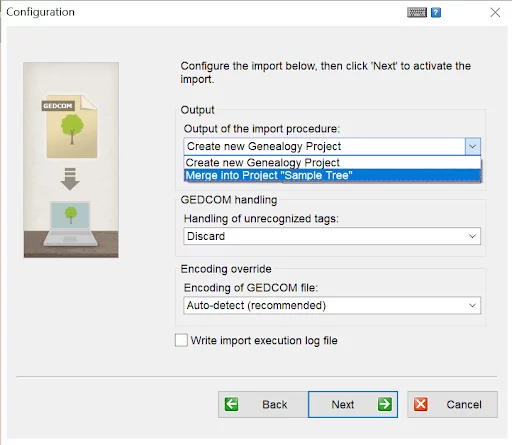 When exporting Gedcom files, you can choose to either include everyone from the entire tree or to select specific individuals to include in the export:
Privacy
In Family Tree Builder, you can add people and facts to your family tree that you can exclude from publishing to your family site. While the rest of the family tree will be synced with your online family site, those specified individuals and facts will remain private. 

Adding unrelated people
It can sometimes be helpful to start a new branch in the family tree without connecting those people to anyone that already exists in the family tree. Perhaps you've uncovered a relative, but you don't yet know how exactly you are related. You can add them as an unrelated person, and attach them to the correct branch later on.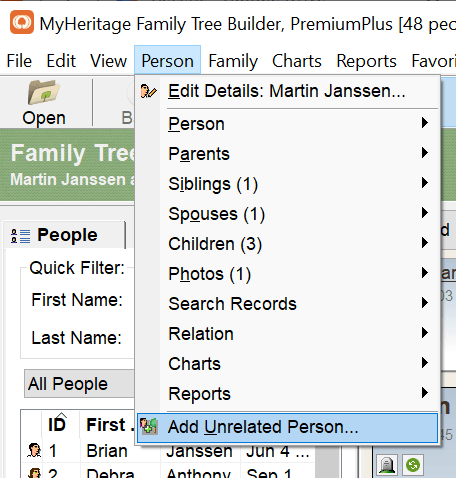 "Find and Replace" tool
Sometimes, we want to change something across the board in a whole family tree project. For example, you may discover that the spelling of a common last name in your family tree is not what you originally thought it was. This can be remedied easily using the Find and Replace tool.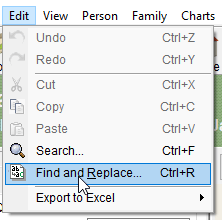 Type in the information that you'd like to correct, and the new word. Click on "replace" to make the change in your entire tree. This tool can save you a lot of time!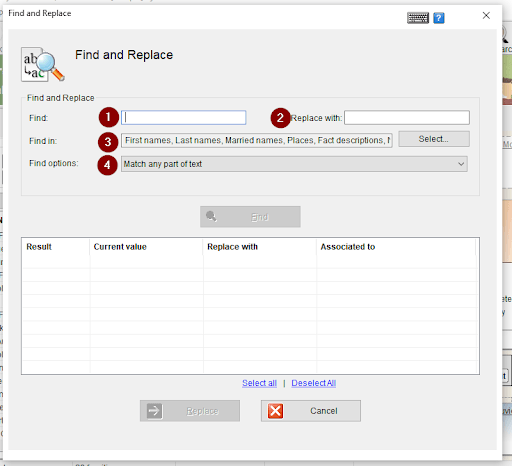 Conclusion
Family Tree Builder is a great platform for building and growing your family tree, for those who prefer software. We hope that you take advantage of these useful and lesser-known features and all that Family Tree Builder has to offer for advancing your family history research.