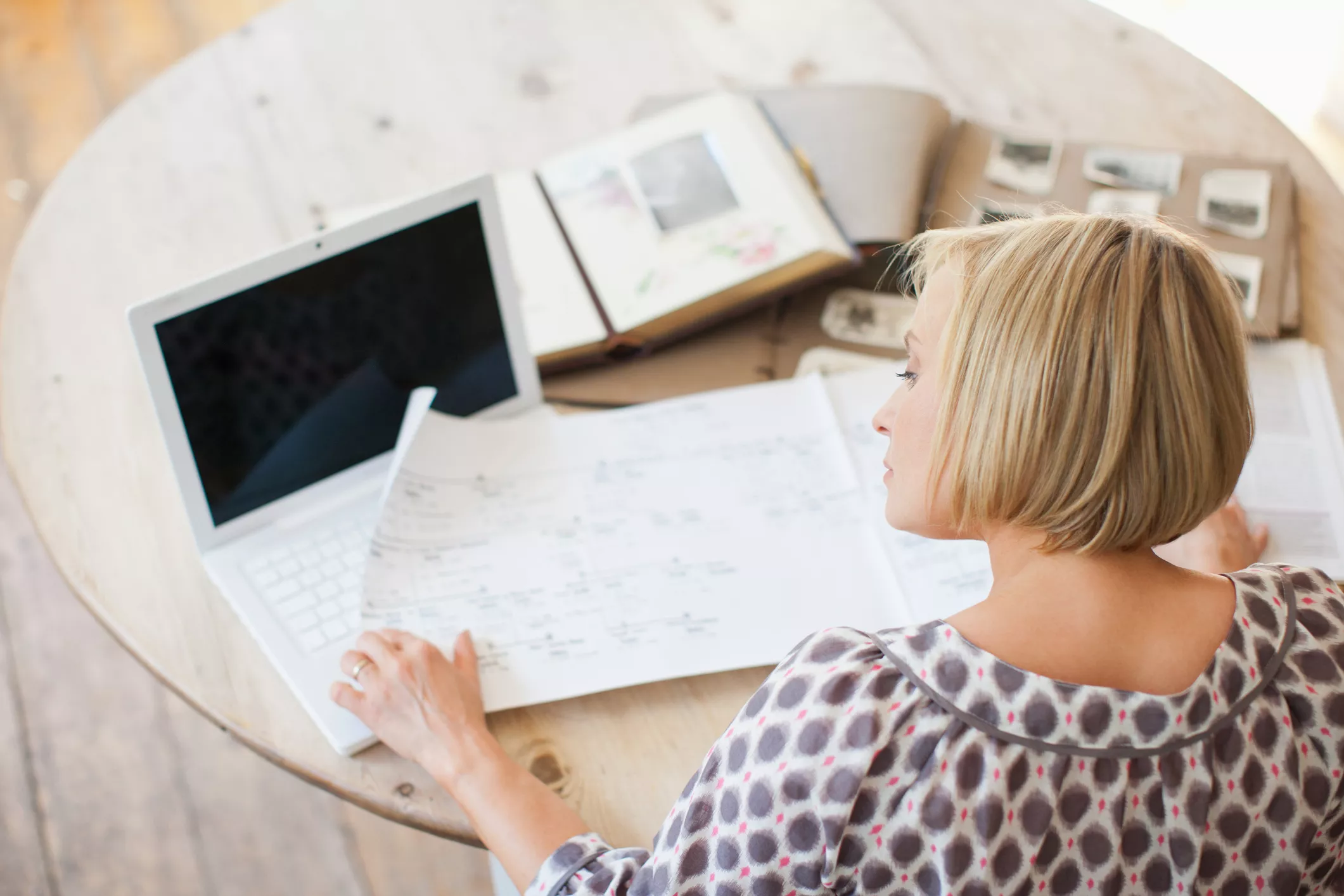 MyHeritage offers a number of different platforms for building your family tree: the MyHeritage website, the MyHeritage mobile app, and the Family Tree Builder software.
Which of these options is best for building your family tree?
Each platform has its pros and cons… and the good news is, you can combine the best of each of them by using all of them at the same time! In this article, we'll explore what makes each platform unique and the advantages and drawbacks of each.
MyHeritage website
The MyHeritage website is the main platform of MyHeritage and is the one we most recommend for beginners. It can be accessed from any web browser at myheritage.com.
Pros:
The interface is easy and intuitive

No need for download or installation

It's easy to share your tree and collaborate with your family members

Using your desktop browser is the easiest way to scan and scroll to navigate through your tree, because you can see more of it at once than on mobile or Family Tree Builder

You can customize your repair and colorization settings when using the MyHeritage photo tools

Currently, Fan view is exclusively available on the website

In general, the website has more features than the mobile app

The website is usually the first to be updated with new features
Cons:
Requires an internet connection

Easiest to use on a desktop or laptop computer (though can also be accessed via a browser on a mobile device)

Fewer customization options and details than Family Tree Builder

Requires paid plan for unlimited tree size and access to advanced features
In short: The website is best all around for beginners, or for seasoned genealogists who want to share their work, use the MyHeritage matching, research, and photo improvement tools, or make basic edits to their tree.
MyHeritage mobile app
The MyHeritage mobile app is free to download on iOS and Android and is a perfect option for genealogy on the go.
Pros:
Can be accessed anytime, anywhere (as long as your phone has service)

Simple, intuitive interface

Includes all of MyHeritage's main features: build your tree, view matches, improve your photos in just a few taps

You can scan photos and record audio directly in the app and skip the step of uploading them to MyHeritage

Some features like Photo Storyteller™ and the photo scanner are only available via the app
Cons:
Less comfortable to work with for long sessions

Fewer features than the website and FTB

The small screen limits the number of people, matches, records, and so on you can see at once

Requires internet connection

Requires paid plan for unlimited tree size and access to advanced features
In short: The mobile app is perfect for on-the-go genealogy: making quick edits or changes to your tree, conducting research on the spot, or capturing photos and audio to add to your tree.
Family Tree Builder
Family Tree Builder (FTB) is a free software you can download from MyHeritage and install on your desktop or laptop computer. It is linked to the MyHeritage website and can sync with your online tree, but can also be used with no internet connection. During the Tribal Quest expeditions, our team used FTB to build family trees in remote locations — whether it was a jungle, a desert, or a frozen tundra!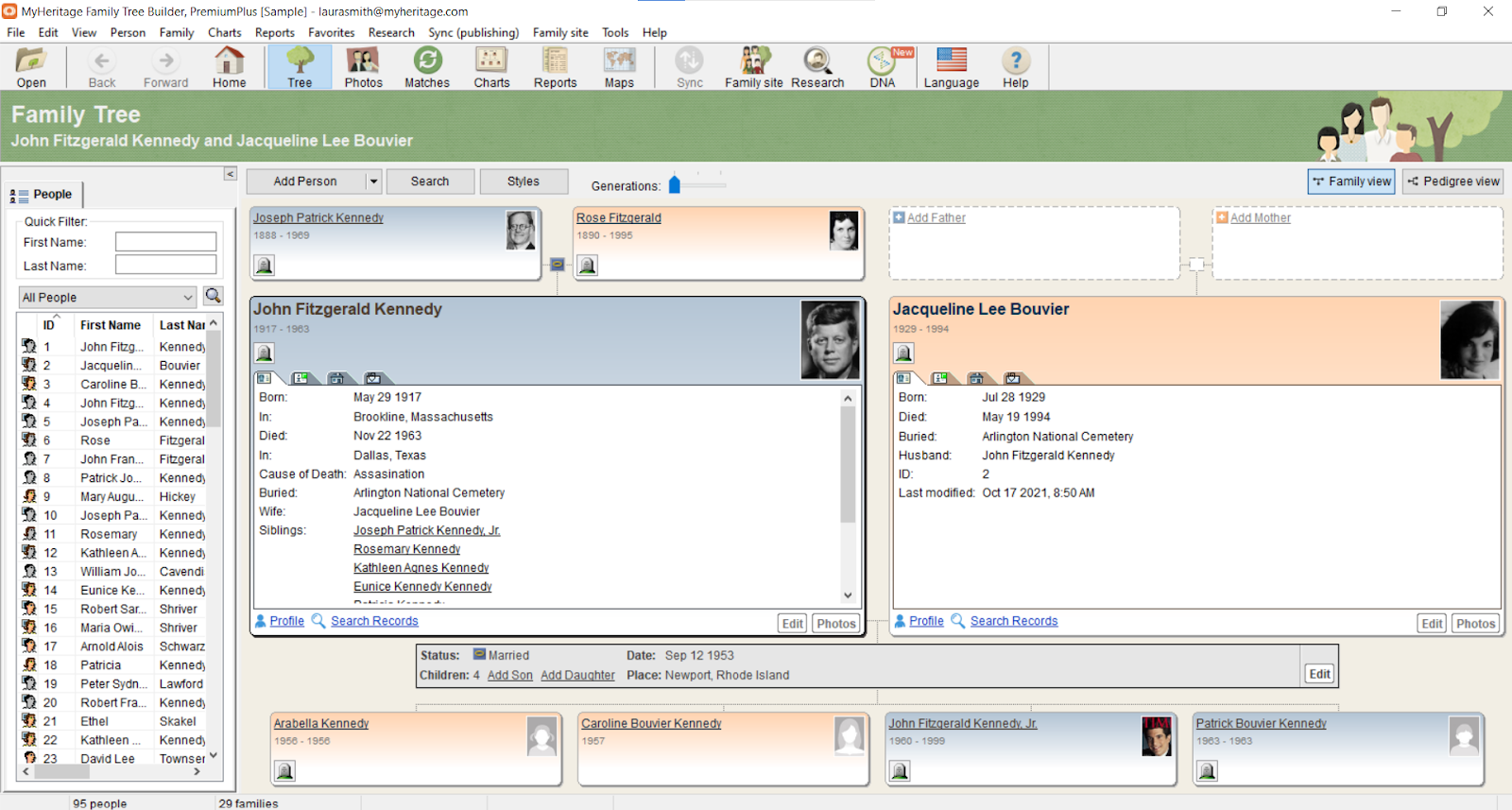 Pros:
Does not require internet connection: you can work and save your work directly on your computer with no need to upload information anywhere

More fields and options for adding details

No limits on tree size even with free version

Advanced privacy options: you can keep a person, fact, note, or other specific detail private, and it will not be synced to the website

It's easier to view, customize, and export lists and reports from your tree

Advanced tree maintenance options: aside from the Consistency Checker, you can check for duplicates or for individuals who may not have been marked as deceased

Dual-language trees: you can work on your tree and add details in two languages

You can add a reverse side for photos and scanned documents

You can preview family tree charts while you're making them and drag and drop profile photos to customize your chart
Cons:
Interface is more complex and dated

Must be downloaded and installed

Harder to scroll through the family tree

No access to MyHeritage photo features or Instant Discoveries™

The matching, DNA, and research features can't be accessed offline — you can review Smart Matches™ and Record Matches on FTB, but the buttons and menu items for the other features will take you to the website

The tree can only be viewed using Family view and Pedigree view
In short: Family Tree Builder is a great option for building a tree offline, and it's especially useful for seasoned genealogists looking for advanced customization and increased versatility to help them make their tree as detailed and thorough as possible.
Why not all of the above?
One of the great things about MyHeritage is that you don't have to choose to use just one of the above platforms. You can use all of them and move seamlessly between the website, mobile, and offline versions of your tree. Family Tree Builder automatically syncs with your online family tree when connected to the internet, so no matter which platform you're on, you'll be working with the latest version of your tree.
To learn more about using the website versus FTB, see this Ask the Expert session by Daniel Horowitz.
Click here for more Knowledge Base resources on using Family Tree Builder.
Click here for more Knowledge Base resources on using the MyHeritage mobile app.