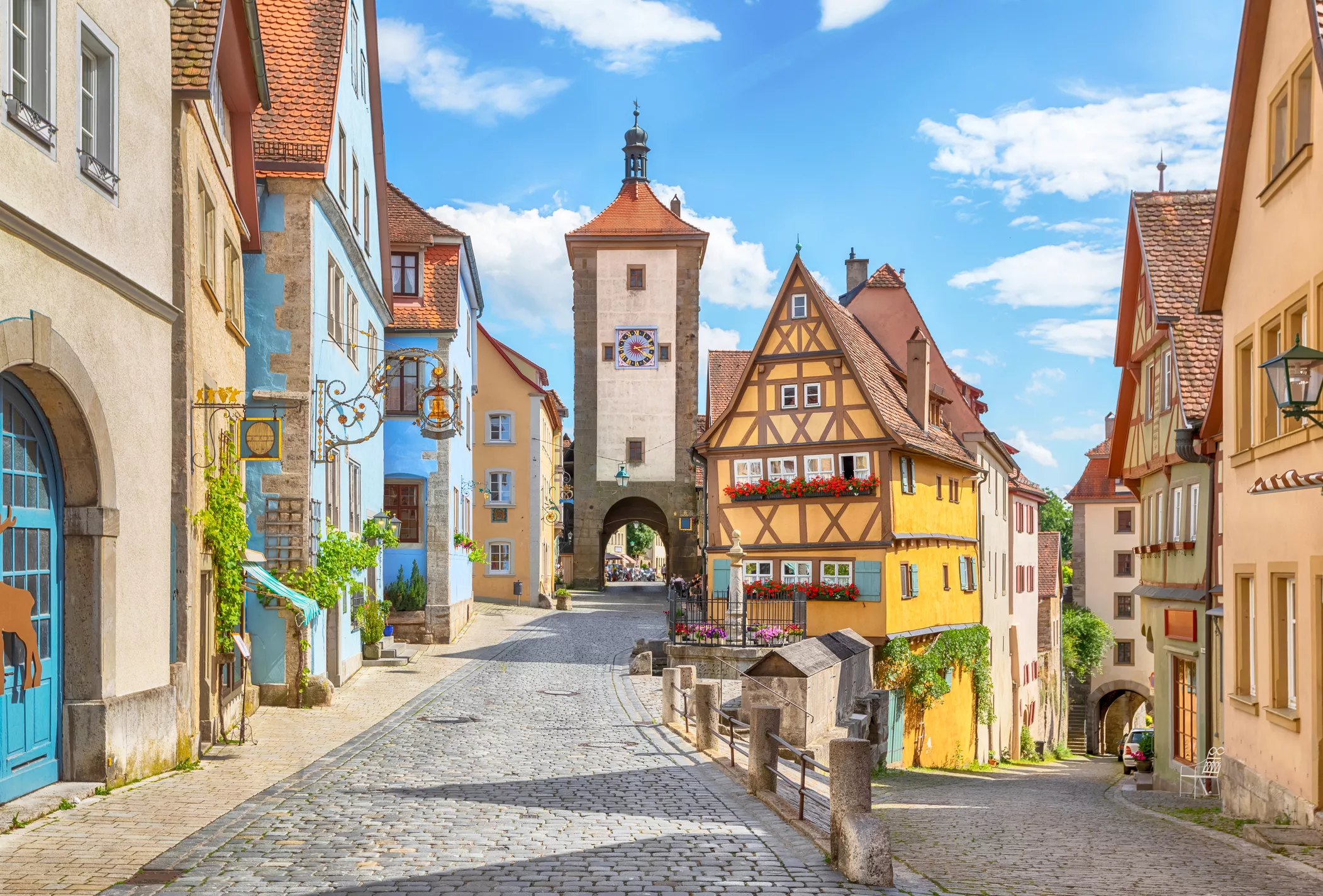 Researching your German ancestors may present a challenge: unlike other places in Europe, many German records are still kept locally. For this reason, the key to uncovering details about your German roots lies in the name of the town that your ancestors were from.
In this article, we'll discuss some strategies for finding out where in Germany your ancestors were from, and then explore some of the unique and highly valuable resources available for researching German ancestors on MyHeritage.
Homing in on your ancestor's hometown
The first thing you need to realize when setting out to find your ancestors' hometown is that many of our "German" ancestors never actually lived in the place we now call Germany. They might have lived in Austria or a German-speaking enclave in Eastern Europe. They might also have come from areas of the German Empire that later became part of neighboring countries, like France or Poland. So when I talk about German roots, I prefer to speak of "German-speaking peoples."
The German Empire shifted and changed over the centuries. During the second wave of German immigration to the U.S., at the end of the 19th century and beginning of the 20th, the empire was ruled by Prussia in a kind of federal system: other states and kingdoms in the empire, such as Bavaria and Saxony, were under its leadership but were technically independent. So if all you know is that your ancestor was from "Prussia," you don't know much! You'll want to narrow it down at least to the level of provenzin (provinces).
Tracking down your German immigrant ancestors
So how do you find out where your German ancestor was from? You try to find every document you can get your hands on that might mention the immigrant ancestor. That might be church records, naturalization records, or other types of official records that document events in the life of the immigrant or the immigrant's children.
It's important to note that German names for people and places may be spelled differently or otherwise corrupted on the records: consistent spelling for documentation is a modern concept, and the English-speaking person receiving the information from a German speaker may not have interpreted what he or she was hearing correctly. So you'll need to be flexible in your search. MyHeritage's search engine identifies spelling variations, making it more likely that you'll find relevant historical records when you search.
Another important tip is to try to find anything you can that might distinguish the individual, such as unique occupations or unusual names of other family members, because, as you'll quickly find, there are a lot of Hanses and Johanns!
What if you can't find records mentioning your ancestor's hometown?
If you can't find specific records for the ancestor, use the "concentric circle" strategy: try researching additional family members such as siblings and cousins, or even friends, associates, and neighbors (FANs, as in the "FAN Club" methodology popularized by Elizabeth Shown Mills).
There are a few reasons why this can help:
People often immigrated in clusters. If you find out where your immigrant's associates were from, you might find your ancestor's hometown in a nearby area.

If your ancestor's name or the name of their hometown was garbled in the documents, maybe the documents mentioning other family members or FANs got it right.

If your ancestor's name was too common, they might have FANs with unique names that are easier to trace.

It could be that your ancestor's records were destroyed, but those of their FANs and family members were not.

Your ancestor may have arrived too early for a certain type of record, while an associate might have come a bit later and may have been included.
How do you find your ancestor's FANs?
There are a few places you might find FANs:
Church baptismal records of immigrant families:

while it is traditional for family members to sponsor baptisms, immigrants often cross-sponsored each other.

Census records and tax lists:

As long as these records aren't alphabetized, they were taken according to place of residence, allowing you to take a walk around the neighborhood and find out which families were living nearby.

Naturalization records:

FANs of your ancestors may have been naturalized on the same day. Many immigrants cross-witnessed for each other as well.

Legal documents:

Anyone mentioned in a legal document is a potential FAN.
Important German resources on MyHeritage
So what does MyHeritage bring to the table? An awful lot! Aside from the millions of family trees online from around the world and the great technologies like Instant Discoveries™ and Theory of Family Relativity™, MyHeritage offers many important historical record collections for researching German genealogy. You will find the full set of U.S. Census records and other important American records on MyHeritage, as well as Germany, Births and Baptisms, 1558–1898, Germany, Marriages, 1558–1929, and Germany, Deaths and Burials, 1582–1958.
However, there are some additional collections exclusive to MyHeritage that give excellent coverage of the German Empire and make it stand out as a great resource for German genealogy.
This collection is a compilation of sources from the period between the 16th century and 1945, from Catholic and Protestant parish registers and information from other researchers from Germany and abroad. The geographical area of West Prussia is now part of Poland and is a particularly hard area to research. This unique MyHeritage collection is the best database of records that exists for this region.
Germany, Prussia, Brandenburg and Posen, Church Book Duplicates, 1794–1874
This collection includes images and indexes of almost a century's worth of births, marriages, and deaths from state copies of some parish registers (Kirchenbuchduplikate) from the provinces of Brandenberg and Posen — also hard-to-research areas. These are second copies of original church records and function like a civil registry. Many of these records have been lost, but what has survived is here in this exclusive MyHeritage collection. The original records are located in the Brandenburgisches Landeshauptarchiv, Potsdam, Germany.
Germany, Prussia, Pomerania Church Records, 1544–1945
This collection includes Evangelical Lutheran and Roman Catholic church records and transcripts for a portion of historic Pomerania, which is now split between Mecklenburg-Vorpommern, Germany and Szczecin, Poland. The region is also notoriously difficult to research. The collection includes birth, marriage, and death records. The original records can be found in the Landesarchiv Greifswald, Germany.
Germany, North Rhine Westphalia, Death Index 1874–1938
This collection contains death records from civil registration offices of North Rhine-Westphalia covering the period between 1874 and 1938 from the districts of Arnsberg and Münster (and MyHeritage says that the districts of Detmold, Düsseldorf, and Köln will be added in the future).
Germany, Emigrants from Southwestern Germany, 1736–1963
This is an index of emigrants leaving Southwestern Germany largely between 1736 and 1963. It doesn't include every single person who left, but it covers both the first and second wave of German immigration and contains a lot of information. In the 1700s and 1800s, emigrants needed to request permission to leave, and after that, they would apply for passports or exit visas. These records may contain first and last names, birth dates, dates and counties of emigration, and the first and last name of a relative. You may also find a title, alternate name, former residence, district, address, marital status, religion, occupation, birth name, destination, and additional information on the family of the individual.
Emigrants from Hamburg to Australasia, 1850–1879
This collection provides a searchable index of all available departure lists for ships from Hamburg to ports in Australia and New Zealand during this period. The collection records the names, former places of residence, ages, occupations, ships, destinations and departure years for more than 40,000 emigrants between 1850 and 1879. It lists passengers on all ships to Australia and New Zealand, including emigrants destined for all states in Australia (except Western Australia) and ports in both the north and south islands of New Zealand. This collection includes passenger lists for which no Australasian records exist, so it's an invaluable resource for people living in that region who have German roots.
Gothaisches Genealogisches Taschenbuch Der Freiherrlichen Häuser (Genealogical compilations of free citizens and minor nobility)
This collection of lineage books includes genealogical information for what we might call middle-class citizens in a large portion of northern Germany. 
Germany, Westfalen, Minden Citizen Lists, 1574–1902
This collection contains an index and images of citizenship rolls, population registers, and census records that enumerated citizens over a period of 3 centuries. The original records are located in Stadtarchiv Minden, Westphalia, Germany.
Germany, Hesse Marriage Index, 1849–1931 and Germany, Hesse Birth Index, 1874–1911
These collections include marriage records and birth records from several communities that are within the state of today's Hesse, Germany. Marriages were usually recorded where the bride lived. When the information is available, a record will include the groom's given name and surname, age or birthday, birthplace, residence, occupation, marriage date, and information about the groom's parents. Birth records include the child's given name, the date of birth, and sex, as well as information about the mother: given name, maiden name, last name, address, and spouse. They also provide information about the informant (the father of the child or a midwife).
You may be able to find additional resources elsewhere that will round out the information you have, but MyHeritage's exclusive collections cover quite a large area of Germany. If you're researching German ancestry, MyHeritage is the place to go.
This article was adapted from a Facebook Live session given by James M. Beidler in June 2021. You can watch the full lecture on MyHeritage's Facebook page here.