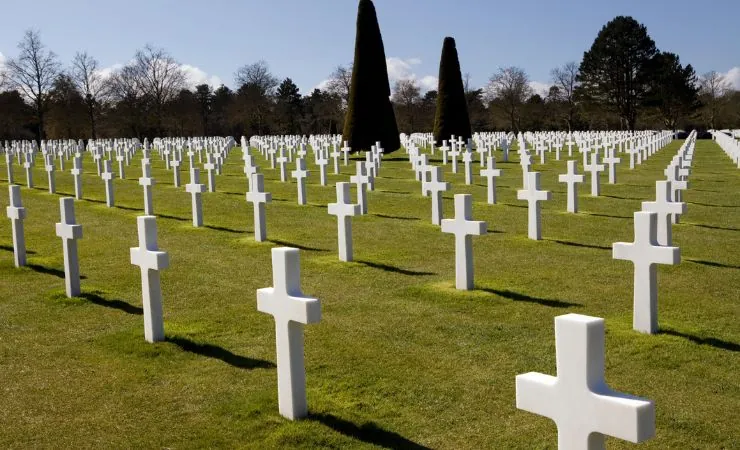 One of the lesser-known but deeply significant historical records collections on MyHeritage is the American Overseas Military Burials, 1917-1974 collection. These records can provide essential insights into the service and sacrifice of American military personnel.
Explore military records on MyHeritage
This collection consists of nearly 250,000 records, all of them from military cemeteries overseas. These cemeteries and memorials, 27 in total, are managed by the American Battle Monuments Commission. They range from the infamous cemetery at Omaha Beach in Normandy, France, known for its portrayal in the film Saving Private Ryan, to the American military cemetery in Manila, Philippines, which holds over 14,000 interments. Each of these places is a solemn reminder of the brave service members who made the ultimate sacrifice for their country.
Although the headstones at these cemeteries often contain limited information — usually just the name of the service member, the date of death, and their home state — the records we have from the American Battle Monuments Commission reveal a wealth of additional details. These details include:
Military service number

Unit

Rank
Where they enlisted
The conflict in which they served
Any awards received
Burial location
Most of the interments at these cemeteries are from World War I and World War II, with fewer from the Korean and Vietnam wars. When a service member in the United States military passed away overseas, their family had the option to either repatriate the remains to the United States or have them interred overseas. Approximately 30% elected for their loved ones to be interred in one of these overseas cemeteries.
Sample record from this collection
Here's an example to illustrate how rich the data in this collection is.
His military service number, unit, rank, and enlistment location are all documented in detail. William served in one of the major conflicts of the early 20th century, a time when many of the interments in these cemeteries occurred. Notably, William received two esteemed military decorations: the Silver Star, a high award for gallantry and merit, and the Purple Heart, awarded to service members wounded or killed in action.
This collection also provides invaluable information about their final resting place. William J. Griffiths is interred at the Luxembourg American Cemetery, and the collection specifies his exact plot, row, and grave number. This offers an opportunity for descendants to visit, pay respects, and further explore their family's military history.
As we reflect on these records, we are reminded of the immense sacrifices made by our military men and women. Their service and courage continue to inspire and influence us, as we seek to honor and remember them.
This discussion on the American Overseas Military Burials collection originated from a recent Facebook Live session with our Director of Content, Mike Mansfield. These sessions, held on the first and third Tuesday of every month, are a chance for you to learn about new and existing collections on MyHeritage. Join us next time on the MyHeritage Facebook page to discover more.
Explore the American Overseas Military Burials collection on MyHeritage