To err is human. Every researcher, no matter how skilled, is bound to make a mistake or miss something at one point or another. However, by being methodical and meticulously recording your sources as well as your doubts and questions about your sources, you can safeguard your tree against errors, catch any mistakes you do make before they compound, and make it much easier to retrace your steps and fix them.
As family history researchers, it's essential to make sure that the facts we're recording in our family trees are true. But we can't always be 100% sure of the accuracy. Even the most official of records may contain errors. How do we make sure that the information we're including in our tree is as accurate as possible?
MyHeritage offers a number of tools that can help.
1. Add source citations
Citing your sources is the single most important action when it comes to verifying information. The more details you provide on the source of the information you're recording, the easier it will be to retrace your steps and double-check your research.
MyHeritage adds source citations automatically when you accept a Smart Match™ or Record Match, but it's always a good idea to add more information when you have it. In the "Edit more" section, you'll find an "Add source citation" option for each fact that includes selecting a confidence level. For more specific details and instructions on adding source citations, read Citing Genealogy Sources: Why & How To Add Source Citations.
2. Add notes
In addition to source citations, you can add notes to each fact from the full edit profile section. Enter the full edit profile section by clicking the pencil icon on the person's card or in the profile panel, then clicking the "Edit more" link at the bottom of the pop-up window. Scroll down to "All my facts" and click "Add a note" underneath the relevant fact.
You can use notes to add any disclaimers or questions you may have about this fact or the sources you've cited. When you come back to this fact later on, you may have new information or sources you can use to cross-reference.
3. Fill out the biography section
You can also use a person's biography section to record information about a person's life and get into detail about what aspects of it may still be unclear. The biography section can be accessed from the full edit profile page:
You can also access this section from the profile panel here:
4. Identify knowledgeable MyHeritage users
One of the greatest strengths of MyHeritage as a genealogy tool is the collaborative aspect: other genealogists in your family who have done thorough research themselves are a veritable goldmine of family history information. Many of our most dedicated users eagerly reply to messages received in the internal messaging system and may be more than happy to answer your questions and share what they know.
One way to identify the users who may be of most value to you is to go to Matches by Source, open the drop-down status menu that says "Pending" by default, and select "Confirmed":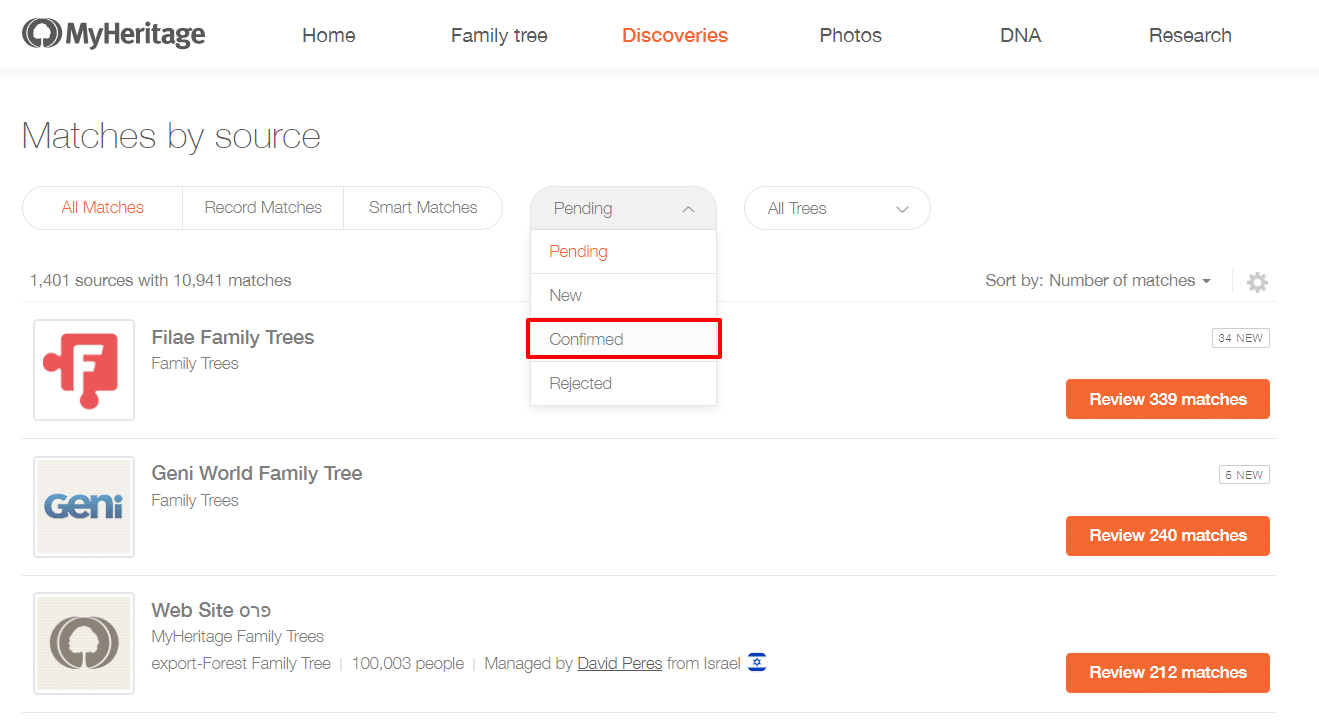 This will bring up a list of sources with matches you've confirmed, including Smart Matches™ with other family sites. You can even filter for Smart Matches™ only by clicking the "Smart Matches" tab at the top of the page. This will display how many matches you have confirmed from each source, which will allow you to identify which sources have already been particularly useful to you.
5. Visit these users' sites and request membership
Beyond contacting these valuable fellow MyHeritage users and comparing notes, you can also request membership to their sites. It's always helpful to visit the family site a Smart Match™ is coming from, because it will contain more information and provide more context than the Smart Match™ page.
When visiting a site belonging to another user that you're not yet a member of, you'll see a banner at the top inviting you to request membership. It's a good idea to add a note when you request membership to give the other person some context and help them understand why you're interested in becoming a member of their family site.
6. Use task management tools
Keeping track of the next steps you need to take to follow through and verify a source can prevent gaps in your research. Family Tree Builder has a handy built-in task management feature ("To-Do Tasks") you can access from the "View" menu:
If you don't use Family Tree Builder, you can set up a different system for tracking your tasks. For example, a simple spreadsheet with columns like these:
Tracking your tasks helps you work in an orderly fashion, giving you control over the parts of your research you're less certain about or where you're looking for more details.
Using these tools can help prevent mistakes before they happen and make it much easier to identify and fix them when they do occur.