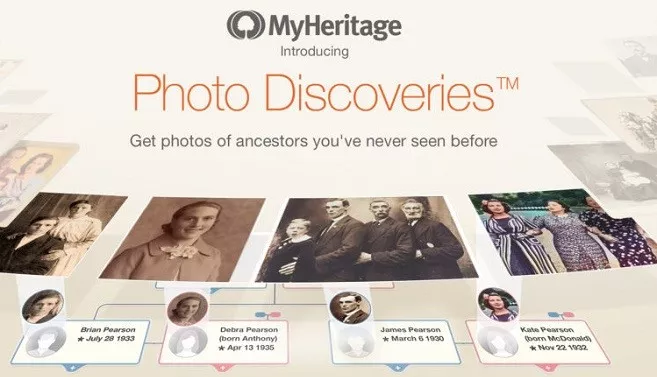 Photo Discoveries makes it easy for you to add photographs to profiles of people in your family tree that currently do not have any photos. Many of us cherish the emotional moment when we see a photograph of our ancestor or relative for the first time. Photo Discoveries can make those special moments happen for you too.
The importance of photos
Photos bring family trees to life. This is best illustrated with a visual example, shown below.
A family tree without photos:

The same family tree, after adding Photo Discoveries: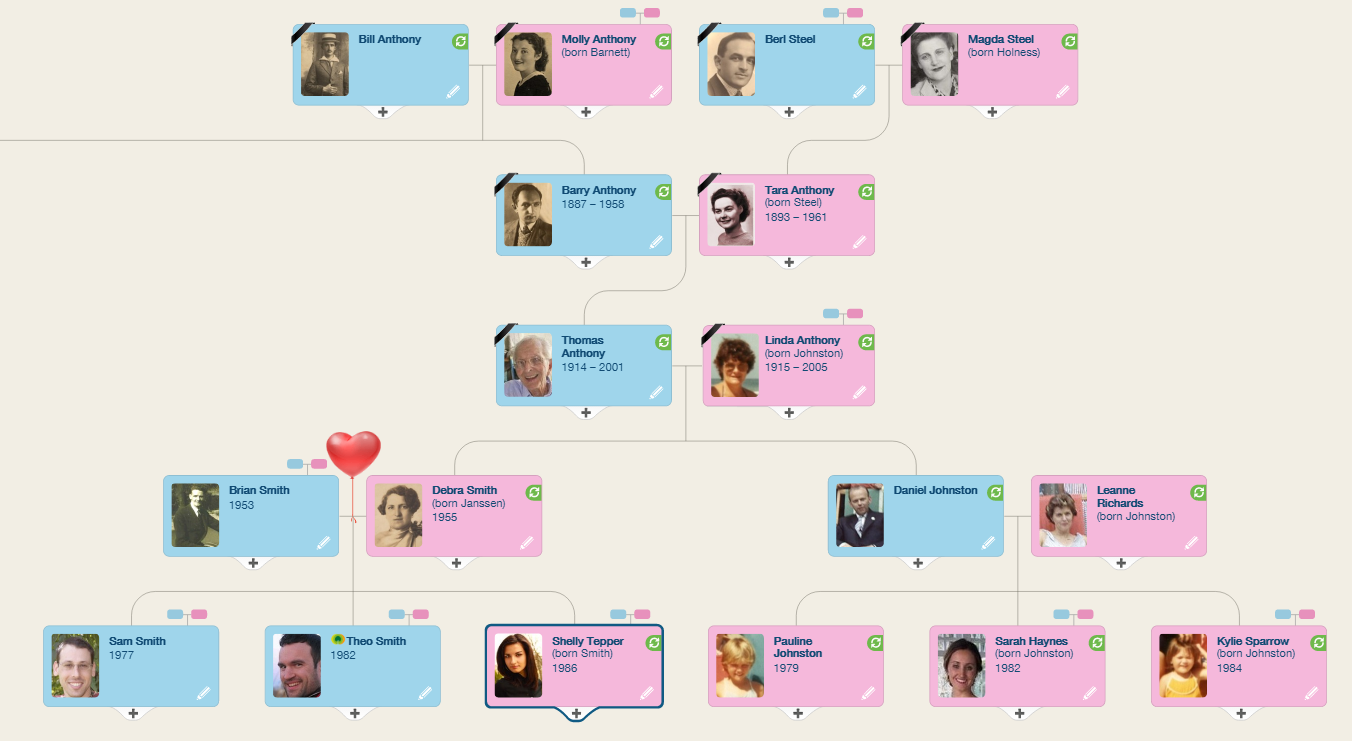 The family tree is much more compelling now. It has been enhanced not only with personal photos, but also with the full-size original photos from which these portraits have been cropped.
It's all about collaboration
Photo Discoveries is collaborative genealogy at its best. Many users have difficulty obtaining historical photos of their ancestors. But ancestors are something they share with their cousins, second cousins, and other more distant relatives. Therefore, it's possible and even likely that photos you have struggled all your life to find are in the possession of some of your relatives who are happy to share them with you. Photo Discoveries paves an easy way for people to share historical photos of people they care about.
How does it work?
Photo Discoveries takes the innovative technology behind Instant Discoveries™ one step further. Rather than using it to help you discover new people or facts, we use it to help you discover new photos. We look at all your Smart Matches™ (sometimes many thousands of them) and isolate the matches with other trees that contain photographs, where the corresponding people in your tree don't have a personal photo, i.e. they are represented by a silhouette in your family tree. We then consolidate all these discoveries into small packages of up to 10 photos each and call each one of them a Photo Discovery.
Each Photo Discovery is a collection of personal photos that can come from different family sites, each one based on a single Smart Match™, and you can add the entire Photo Discovery to your tree in one click. This transfers not only the personal photo, but the full original photo it was cropped from in its maximum resolution, as well as all its metadata — such as people tags (for people you already have in your tree), dates, and place names. When a photo is copied, a source citation is automatically created for that individual which gives credit to the source and the user from which the photo was copied. Photos will originate only from family sites where the privacy setting for allowing photos to be copied from Smart Matches™ is enabled.
An important aspect of Photo Discoveries is their accuracy. As the Photo Discoveries feature is based on our underlying Smart Matching™ technology, we filter out the vast majority of incorrect matches automatically. You can rest assured that we're giving you pictures of people in your family tree who are actually those people. But just in case, you can still dive into each Photo Discovery and reject the photos that you don't want. You remain in full control of what to add to your family tree.
Accessing Photo Discoveries
Visit the Instant Discoveries™ page via the Discoveries drop-down menu in the main navigation of your family site.
In the Instant Discoveries page, you will see a list of Person Discoveries (discoveries that can add new individuals to your family tree), and Photo Discoveries (discoveries that can add photos to existing individuals in your tree). To view only Photo Discoveries, click the "Photo Discoveries" filter as shown below.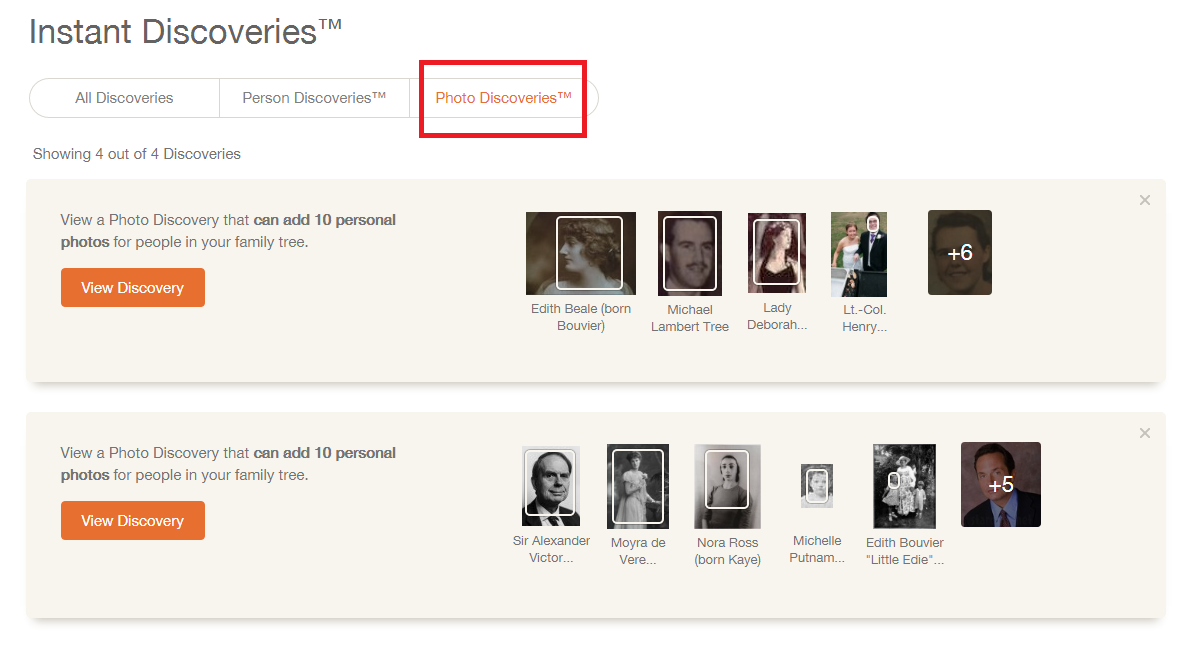 Click any of the orange "View Discovery" buttons to drill down and see the photos included in that Photo Discovery "package," as shown below.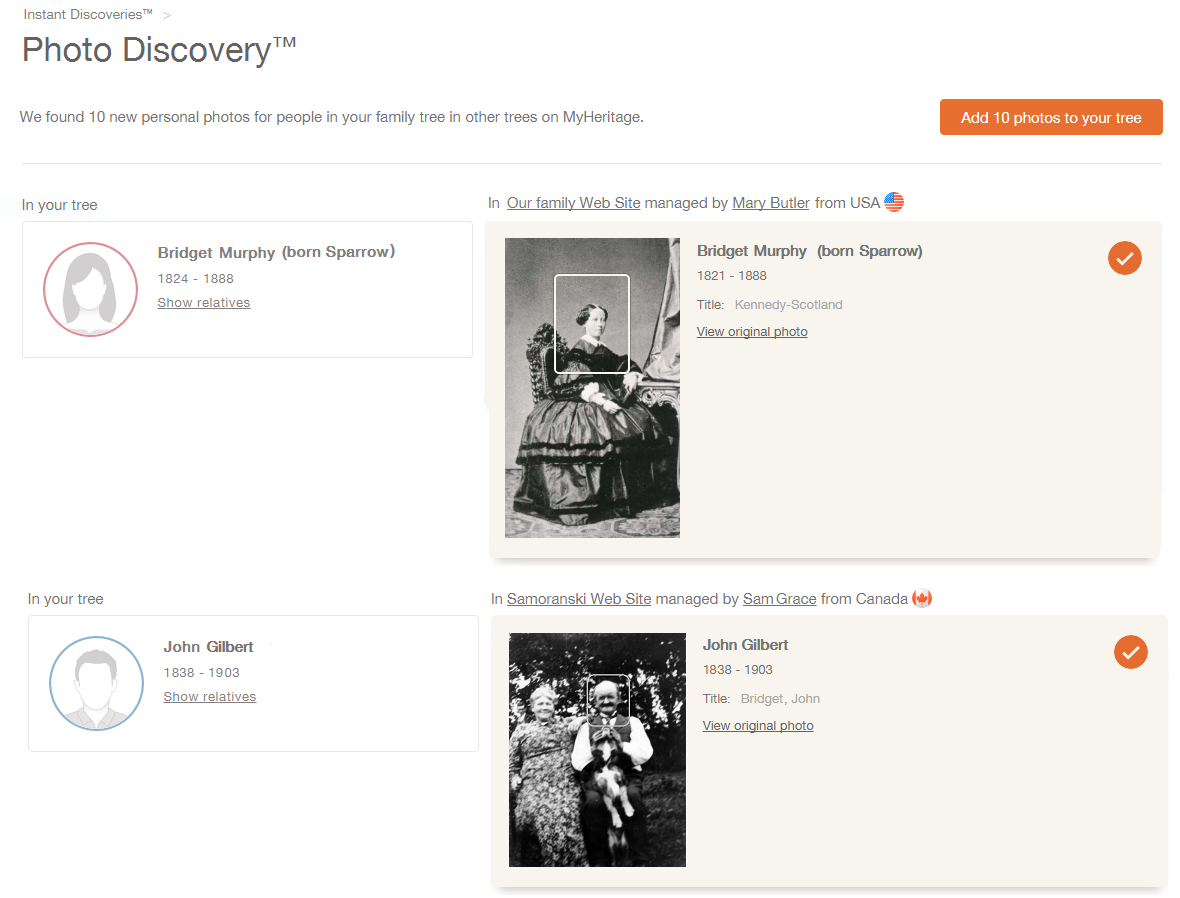 For each photo included in a Photo Discovery, you will see the name of the family site that it comes from, and the site manager's name. You will also see additional information available about the photo, such as its title, date, place, and description, and additional information about the person appearing in it.
Moving the mouse over the site manager's name will open a callout, from which you may contact that user and communicate directly. This can be used to thank the site manager for the photos and ask if he or she has additional materials to share with you.
You may click "View original photo" to see a larger version of the photo from the Photo Discovery and who else is tagged in it.
Adding a Photo Discovery
By default, all photos in a Photo Discovery will be copied to your tree when you add the discovery. If you'd like to exclude specific photos that you don't want, click the checkmark next to any photo to deselect it. Finally, use the "Add" button on the top right corner of the page to add all the photos to your tree in one click.
To completely reject a Photo Discovery, click "Reject this Discovery" at the bottom of the list of photos found in that discovery. Rejected discoveries will not be offered again.
After adding a Photo Discovery, if you have fewer than 50 people in your family tree, you will be taken back to your family tree to see the new photos that you've just added. If you have 50 or more people in your family tree, you will be taken to the Photos section, where you can view the photos that you've added.
Email Notifications
If a new Photo Discovery was found for you, we will notify you via a Photo Discovery notification email to make sure you won't miss it. You will receive no more than one such notification per week.
Combining Person Discoveries and Photo Discoveries
There are two types of Instant Discoveries: Person Discoveries and Photo Discoveries. You can apply a Person Discovery to add a branch of individuals to your tree, and then apply a Photo Discovery to bring photos of these individuals (and other individuals) from other family trees into your tree.
PremiumPlus and Complete subscribers can enjoy unlimited Discoveries. After applying a discovery, your tree will change, and new discoveries will need to be recalculated. Additional new discoveries can be added after 24 hours.