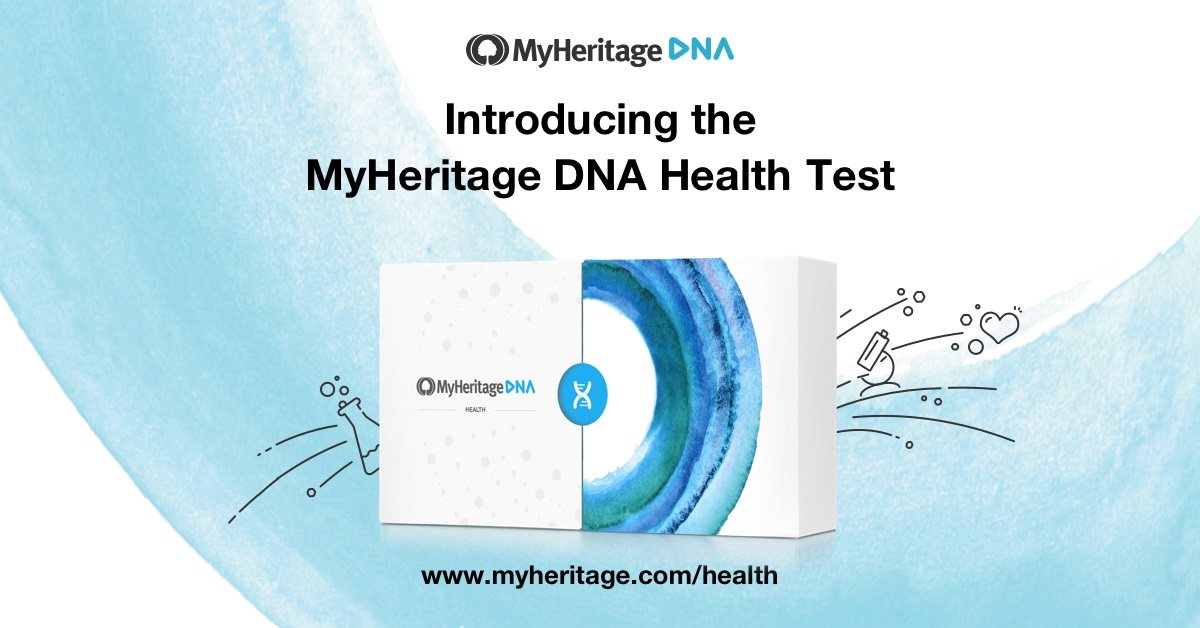 The MyHeritage DNA Health  test offers genetic insights that can enrich your life, enlighten you about your health, and help you make informed lifestyle choices. It includes dozens of personalized and easy-to-understand health reports in addition to all of the features of the MyHeritage DNA test, such as matching to relatives based on shared DNA, ethnicity estimates, a chromosome browser, and more.
The Health  test helps you understand how your genes can affect your health. Your results include reports for conditions caused by single genes, such as hereditary breast cancer, late-onset Alzheimer's disease, and late-onset Parkinson's disease; conditions caused by multiple variants, such as heart disease, type 2 diabetes, and female breast cancer; and Carrier Status Reports on conditions that can be passed down from a couple to their children, such as Tay-Sachs disease and cystic fibrosis.
Altogether, the MyHeritage DNA Health  test covers one of the most extensive ranges of conditions offered by an at-home DNA test — and more conditions are constantly being added.
To order your kit, visit the MyHeritage DNA website. You'll be able to choose between the DNA kit and the new Health  kit.
Powerful insights can motivate people to take a more proactive role in their healthcare management. With the launch of this product, MyHeritage expanded our mission from changing lives to saving lives.
Learn more about the MyHeritage DNA Health test in this video.
Below you'll find some of the main benefits of the MyHeritage DNA Health  test.
Global Reach
The MyHeritage Health  test is the only major consumer health test that has been launched internationally and is available not only in English but in a large number of additional languages. MyHeritage is well-known for its international reach and for supporting 42 languages. This has helped make it the most popular DNA test in Europe. From day one, we've been striving to make MyHeritage DNA Health  the genetic test for health with the widest global reach. By testing a more diverse global audience, our science team will be able to gain knowledge to enhance the product in the future and to cover a wider range of health conditions that are relevant to diverse populations around the globe.
Genetic Risk Reports
The Health test currently offers 14 genetic risk reports that explain an individual's genetic risk for developing specific conditions. The reports also show the risk in the general population, for convenient comparison. The genetic risk reports include monogenic and polygenic conditions, which are described in detail further below. These conditions include heart disease, breast cancer, type 2 diabetes, Alzheimer's disease, and others.
For a full list of conditions supported by our test, visit our disease list page.
Please note that our reports do not diagnose any health conditions or provide medical advice, and they do not determine whether you have or will develop any condition. The reports offer valuable information that you can share with your doctor so you can make choices about your health management, such as lifestyle changes, that may reduce your risk for certain conditions. The report for each condition includes sections on additional risk factors, more information about the condition, and details that explain the test methodology.
Carrier Status Reports
Carrier Status Reports provide insight on whether you are a carrier for certain hereditary conditions. If both parents are carriers for the same genetic condition, there is a 25% chance that their child will have the condition and a 50% chance that their child will not have the condition but will be a carrier. Carrier Status Reports are therefore important for family planning. They can also be useful at an older age, providing insight to the children of a parent who is a carrier, as it would be helpful to know whether they themselves are carriers before they begin their own family planning. More detail about the Carrier Status Reports is provided further below.
Physician Oversight and Genetic Counseling; Questionnaire
In the United States, we work with an independent network of physicians called PWNHealth, which supervises this new service and provides clinical oversight.
As with our current genealogical DNA kit, activation is required to associate the kit with the individual who is taking the test. With the MyHeritage DNA Health  kit, activation must be done by the user who took the DNA test and it includes an additional step: completing a personal and family health history questionnaire. This ensures that users receive the reports that are appropriate for them. In the United States, an independent physician will review each health history questionnaire, approve the processing of the test, and evaluate all health reports before they are released. When a report indicates an increased risk for a specific condition, the physician will determine whether genetic counseling is advised. If genetic counseling is recommended, a phone or video consultation with a genetic counselor from PWNHealth is included at no additional cost.
The physician oversight and genetic counseling is an important benefit of the MyHeritage DNA Health test in the United States. This ensures that users will not be on their own when interpreting the results in cases where the results indicate increased risk and the physician considers genetic counseling to be essential. In other words, our test provides access to experts who can help people understand their results, which our major competitor does not provide.
Methodology and Technology
The MyHeritage DNA Health  test is a Lab Developed Test and is processed in our CLIA-certified and CAP-accredited laboratory located in the United States.
The product is based on robust scientific research conducted by the MyHeritage Science team led by MyHeritage's Chief Science Officer, Dr. Yaniv Erlich. DNA analysis for the Health  test is based on a DNA chip — Illumina's Global Screening Array (GSA) — custom-designed by MyHeritage. In the design of this DNA chip, we were able to balance the needs of genetic genealogy and health testing to create a single state-of-the-art chip with an appropriate selection of single nucleotide polymorphisms (SNPs). The chip gives us the flexibility to efficiently introduce new health reports, while continuing to deliver excellent DNA matching for genetic genealogy and ethnicity estimates.
We take extra steps to reduce the chance of reporting false positives: for conditions with significantly increased genetic risk, such as cancers, we double-check all pathogenic findings with Sanger sequencing, which is the gold standard in molecular testing.
Processing time in the lab is 3–4 weeks for both genealogy and health kits.
Privacy and Security
Your privacy is our top priority. MyHeritage health reports were designed with enhanced layers of security and multiple levels of encryption. Every report is encrypted with a unique password that only the user knows, and MyHeritage avoids storing any of these passwords. All identifying information is stored separately from DNA data and health information. Even MyHeritage employees cannot access users' health reports. Upon an explicit request from a user, for customer support purposes, a designated MyHeritage employee can re-generate a health report which both the designated employee and the customer can see, for a limited period. This technical support capability is limited to a tiny daily quota to prevent abuse. Other than the user who has taken a health test, no other users can ever view the health reports, including a person who buys a health test as a gift for someone else. In the United States, the physician network PWNHealth has access to a summarized version of the health reports in order to provide clinical oversight, but has no access to the users' accounts on MyHeritage nor any of the additional information stored within them.
You are the sole owner of your data, not MyHeritage. You can delete your data permanently at any time.
To date, MyHeritage has never sold or licensed personal data, and pledges never to do so in the future without the user's explicit informed consent.
MyHeritage is the only consumer DNA company that has pledged to never sell data to insurance companies. This restriction covers all circumstances! MyHeritage has also adopted a strict policy that prohibits the use of our DNA services by law enforcement agencies.
Now that we've covered the basics, let's dive in and view the reports in more detail.
Genetic Risk Reports — More Details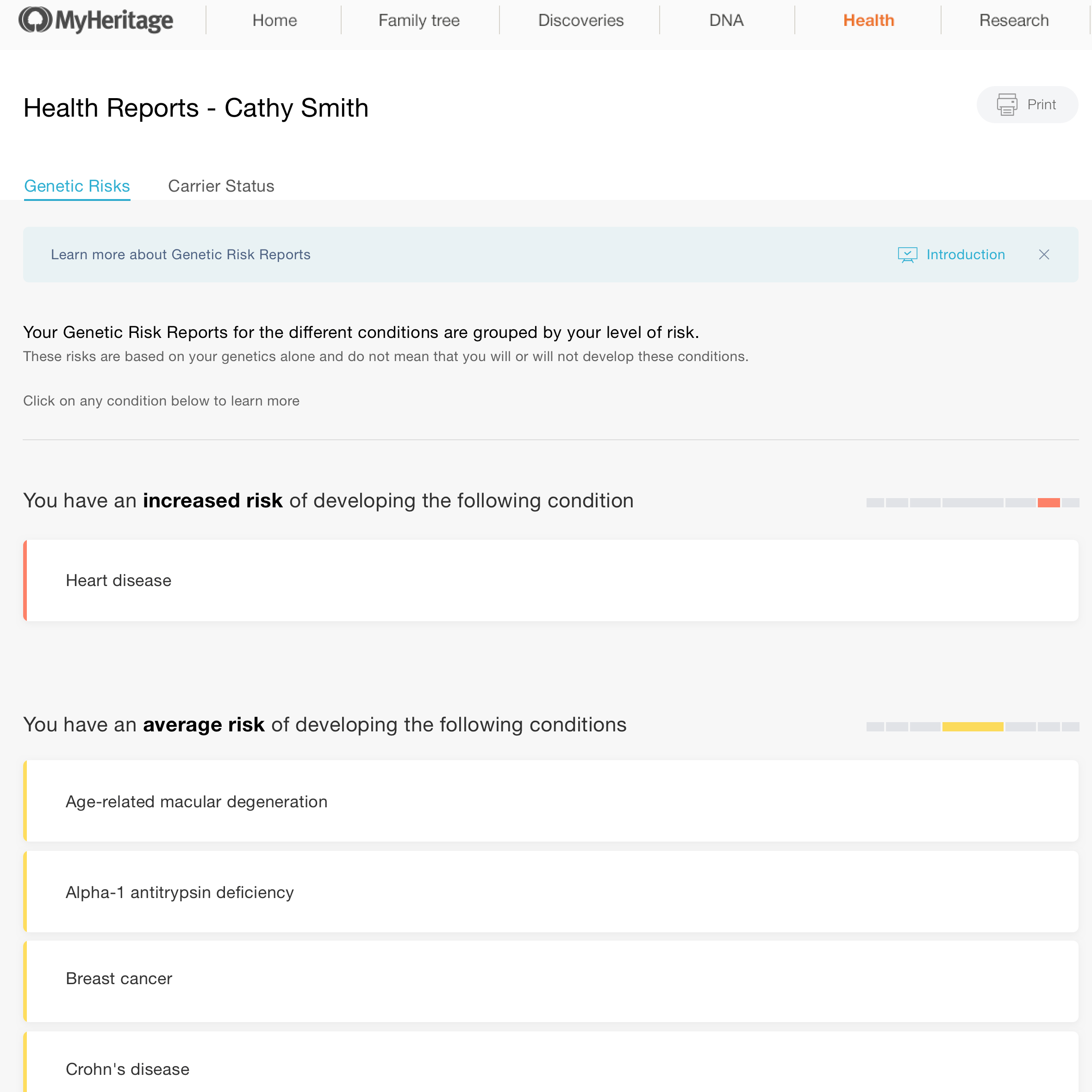 Genetic Risk Reports include reports for conditions caused by variants in a single gene (monogenic), as well as for common conditions that are caused by multiple variants across the genome (polygenic).
Polygenic Conditions
Most common conditions — those that affect the largest number of people worldwide — are polygenic. This means that they are influenced by several hundred or even thousands of genetic variants in addition to lifestyle and environmental factors.
Polygenic Risk Reports are based on a cutting-edge method called Polygenic Risk Scores, which examines hundreds, and in some cases thousands, of variants across the entire genome, rather than just a single genetic variant. This is helpful in providing an indication of genetic risk for some of the most prevalent health conditions worldwide, such as heart disease, type 2 diabetes, and breast cancer. Three Polygenic Risk Reports are included in the product at launch and more are being developed right now.
Among the Polygenic Risk Reports, MyHeritage provides a risk report for heart disease, also called cardiovascular disease. The inclusion of a Polygenic Risk Report for heart disease is unique to MyHeritage. According to the World Health Organization, heart disease is the leading cause of death worldwide, and it estimates that 17.9 million people die each year from some form of cardiovascular disease. The Centers for Disease Control and Prevention (CDC) reports that heart disease is the leading cause of death for both men and women in the United States. Approximately 610,000 people die of heart disease in the United States every year — that's 1 in every 4 deaths. The MyHeritage DNA Health  test provides an estimate of your genetic risk for heart disease, which you can then share with your doctor for more informed and personalized care.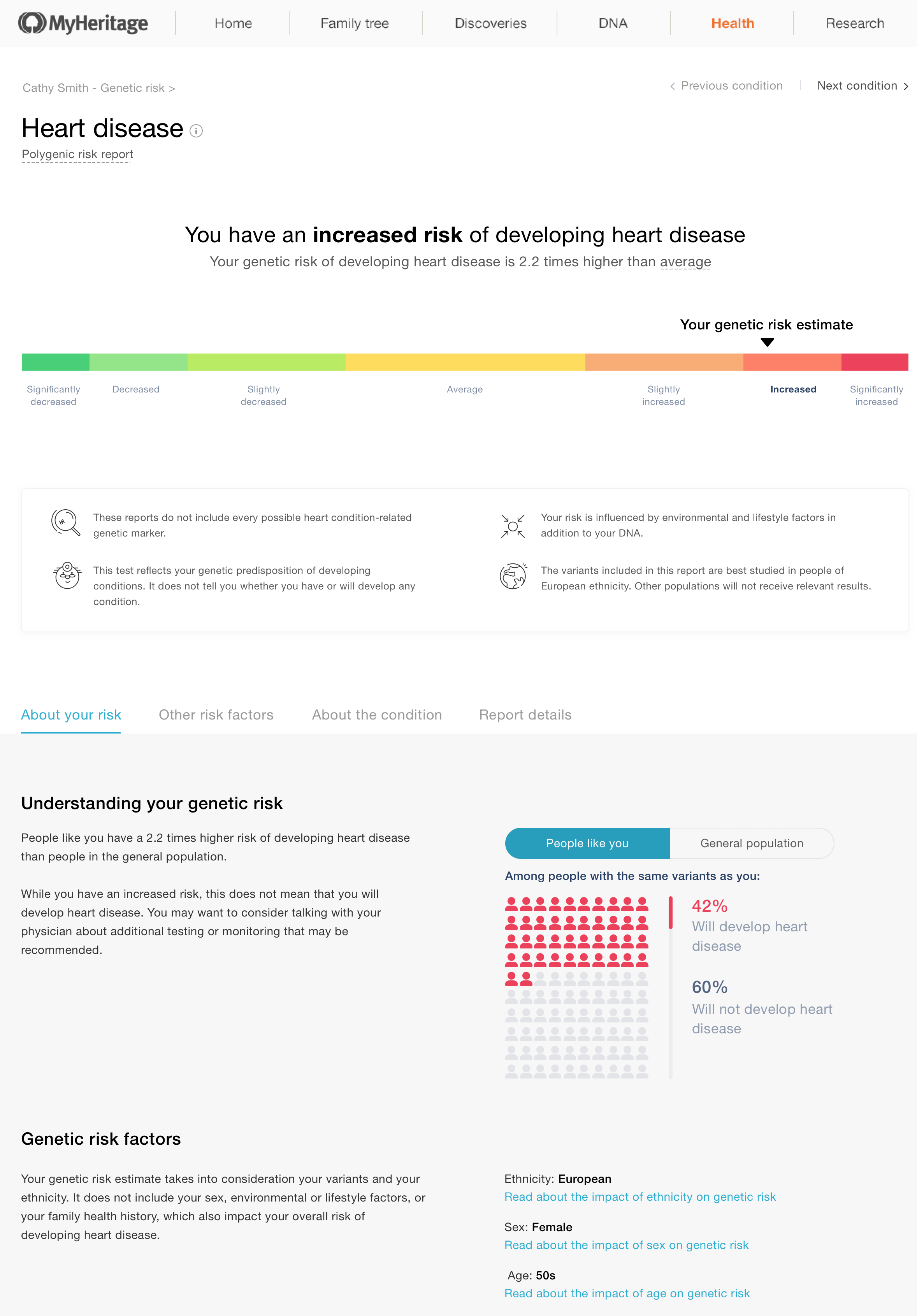 In addition to heart disease, the Health  test includes a Polygenic Risk Score for type 2 diabetes, a condition that has significantly increased in prevalence in recent decades. Type 2 diabetes now affects hundreds of millions of people worldwide and is predicted to affect 40% of Americans within their lifetime.
MyHeritage also provides a Polygenic Risk Score for breast cancer. This report includes a risk assessment for breast cancer for women who did not have a BRCA variant identified by their MyHeritage test. It is important to note that the MyHeritage test does not look for all possible BRCA variants.
MyHeritage plans to add more Polygenic Risk Reports over time. The three initial Polygenic Risk Reports are based on studies of European populations, so they are only available for people who are mainly of European ancestry. We have begun conducting research to allow the polygenic reports to cover a broader spectrum of populations in the future.
Monogenic Conditions
Monogenic conditions are genetic conditions that are associated with a change in a single gene. Some of the monogenic conditions that we test for include hereditary BRCA cancers, hereditary thrombophilia, and Crohn's disease. We also provide a genetic risk estimate for Alzheimer's disease and Parkinson's disease, which are the two most common neurodegenerative disorders. One in every ten people aged 65 or older has Alzheimer's, and Parkinson's affects 10 million patients worldwide. As both conditions are incurable, we give users the option to disable health reports for these conditions if they prefer not to know the results.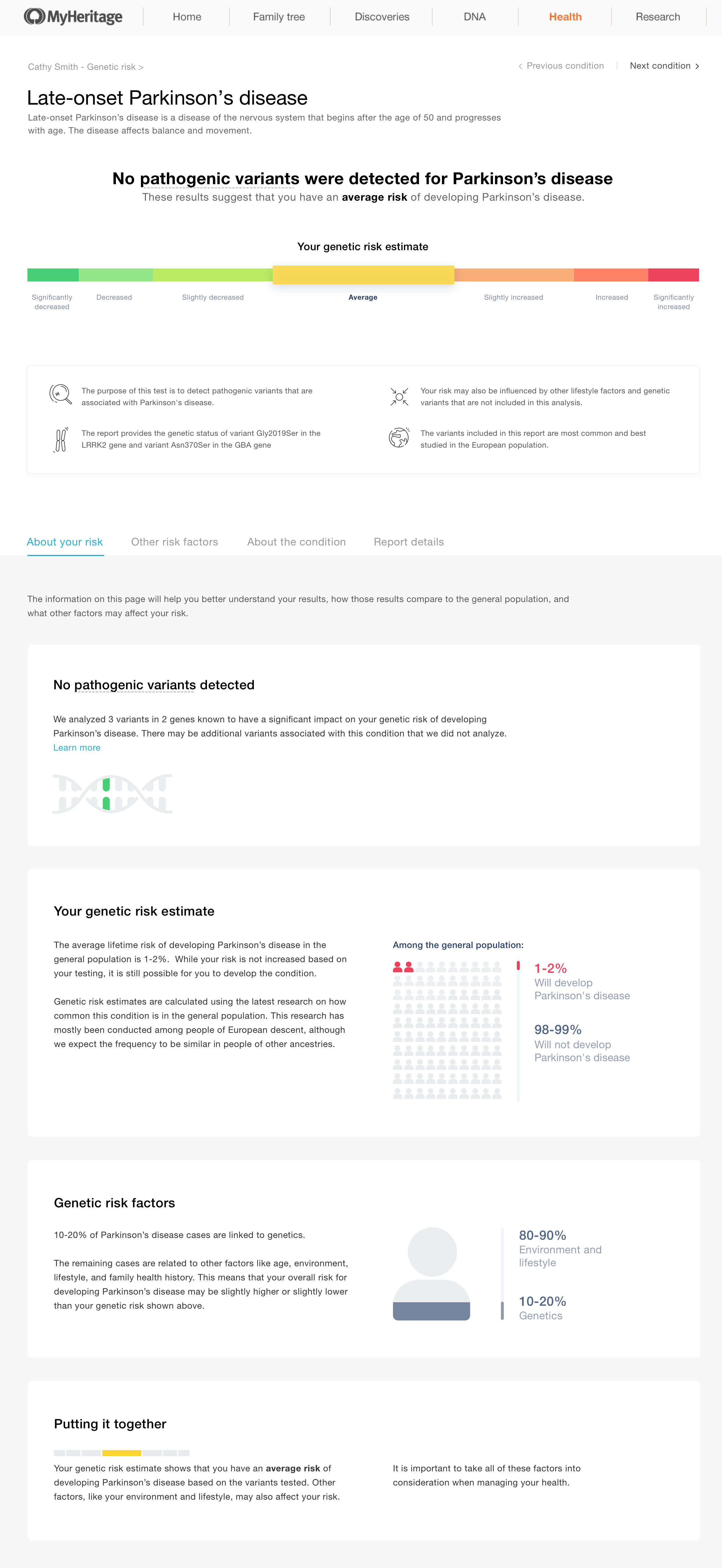 For each condition, you can read more in the additional tabs: "Other risk factors," "About the condition," and "Report details."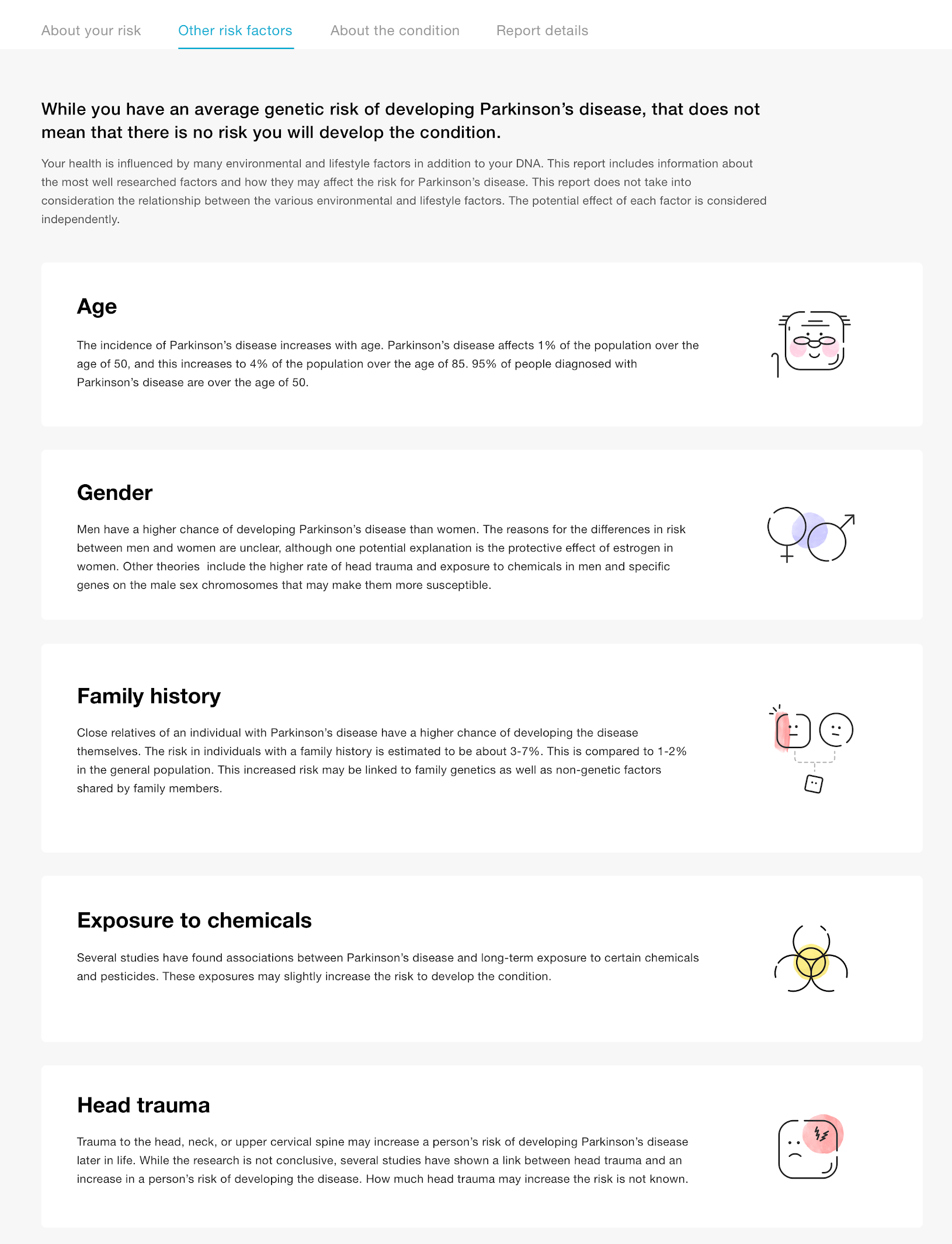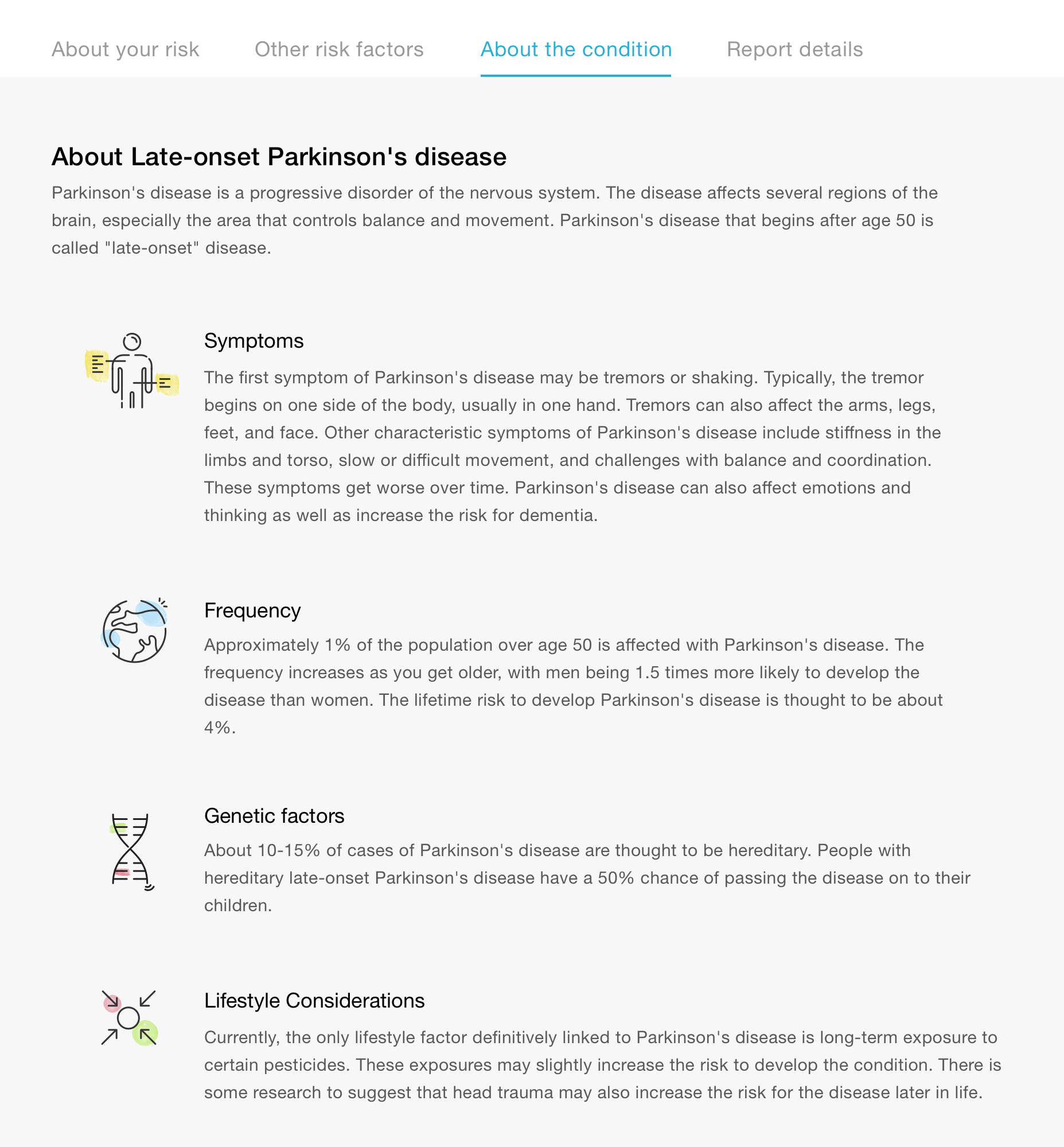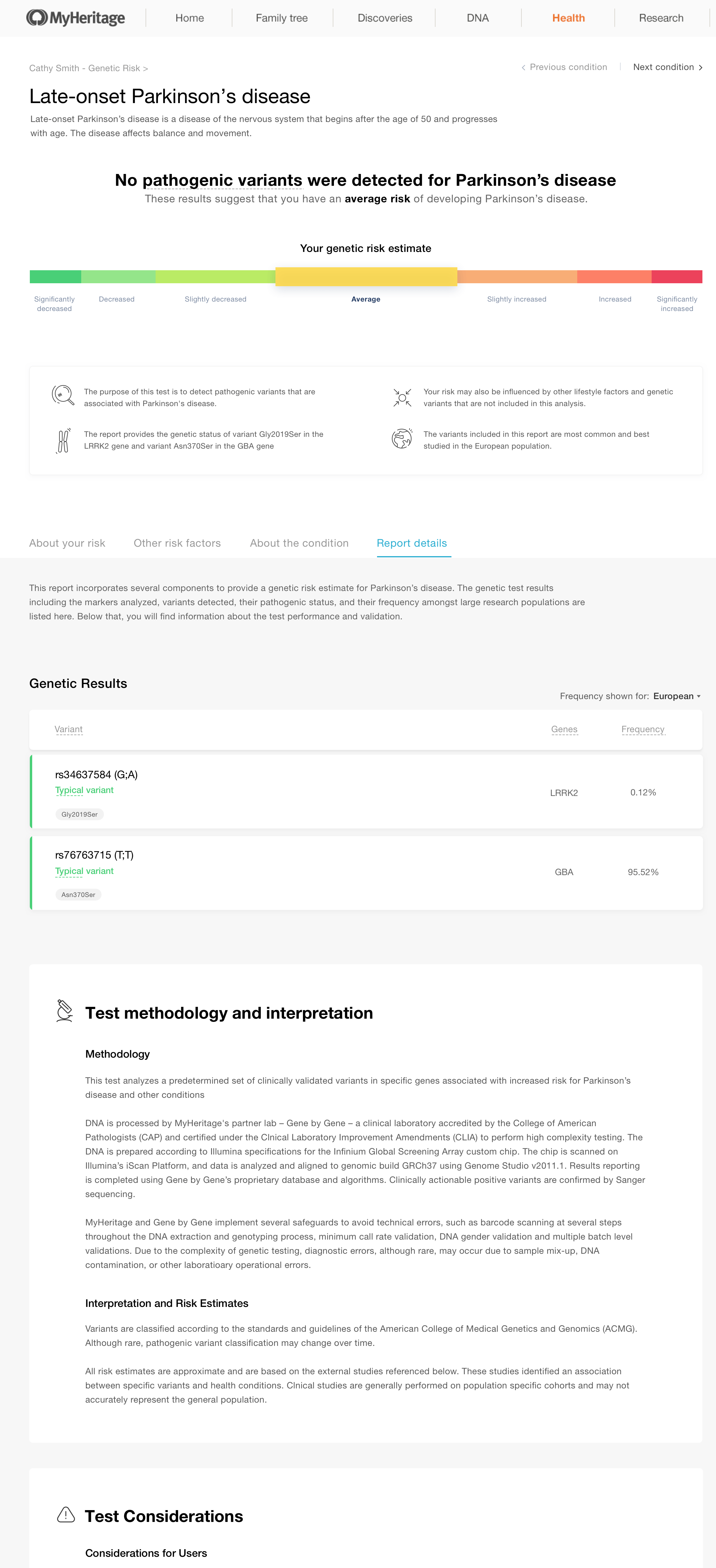 Carrier Status Reports — more details
People who are carriers of a genetic disease may not even know it. Most carriers never develop any symptoms, but they can still pass on the variant — or the disease itself — to their children.
Carrier status reports are provided in a separate set of screens within the health reports.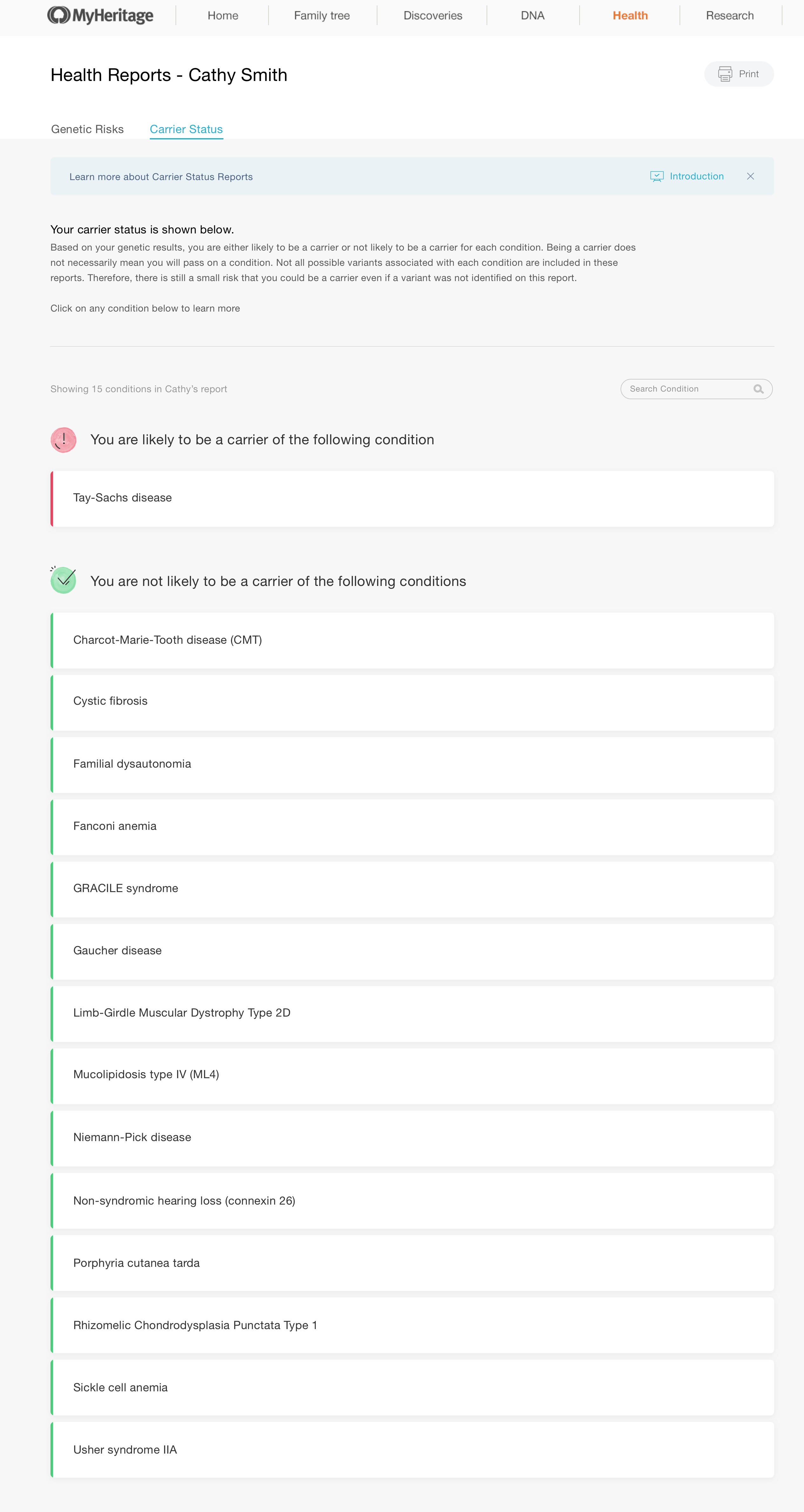 When planning a family, carrier testing is recommended so that you can be aware of the risks if you and your partner are carriers for the same genetic condition.
For example, Tay-Sachs is a serious genetic disorder that results in the destruction of nerve cells in the brain and spinal cord. Tay-Sachs can occur when both parents carry a pathogenic variant in the Tay-Sachs gene. If each parent passes the pathogenic variant on to their child, their child may develop Tay-Sachs disease. A person with only one pathogenic variant on the Tay-Sachs gene is healthy but is a carrier of the disease. The Carrier Status Report, as shown below, can inform you if you are likely to be a carrier for Tay-Sachs disease.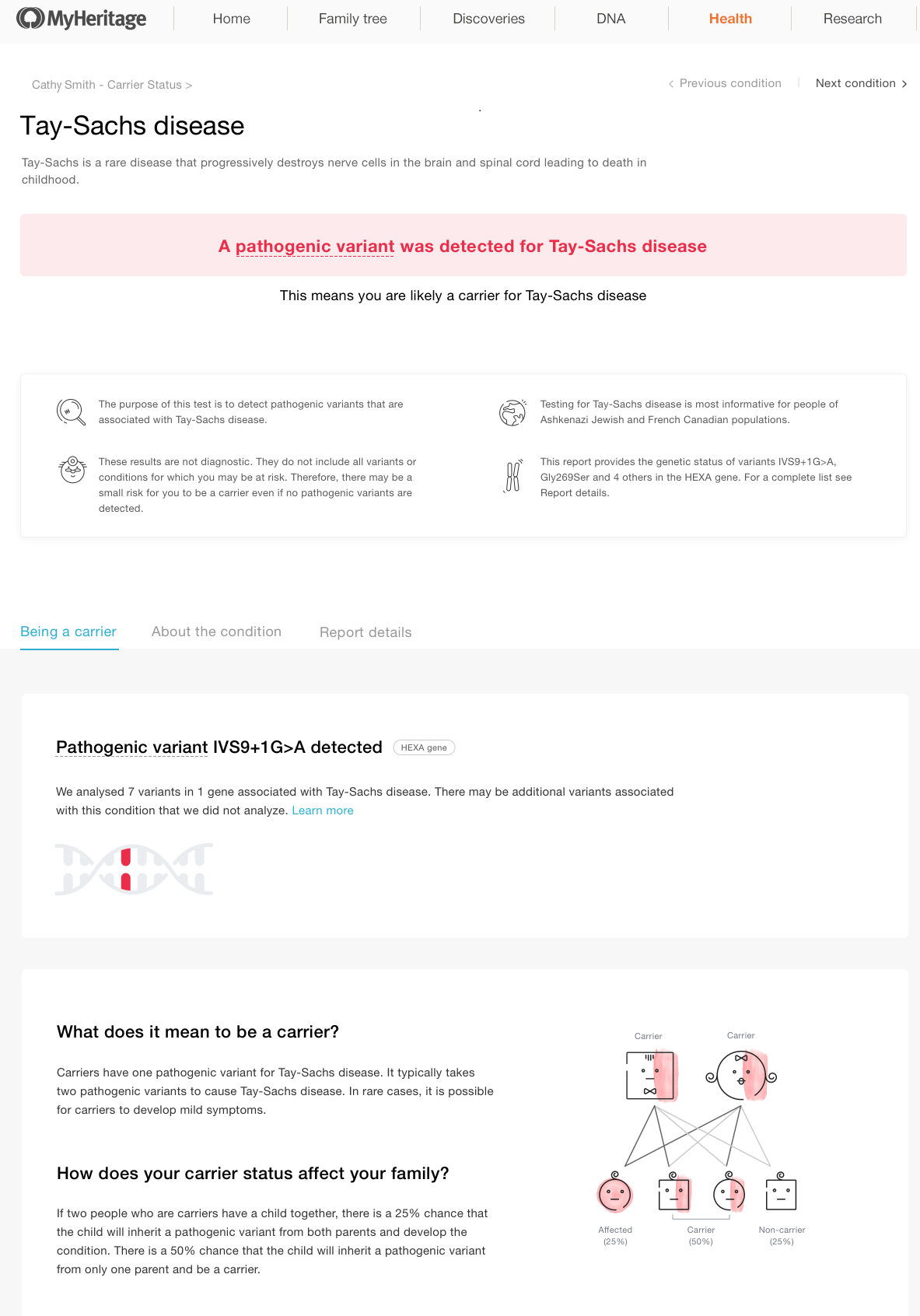 For a full list of Carrier Status Reports currently supported by our test, visit our disease list page.
Pricing & How to Order a MyHeritage Health  Test
The MyHeritage DNA Health  test costs $199 US+ shipping.
Customers who have tested with MyHeritage DNA can upgrade to receive the health reports without testing their DNA again for $120 US.
In some locations, taxes are added to these prices. In Europe and other countries, prices may differ and are stated in the local currencies.
Order a MyHeritage DNA Health  Test
Order a Health Upgrade (for existing MyHeritage DNA customers after logging in)
Health Subscription
The Health subscription is an optional add-on for the kit. Priced at $99 US per year, it gives you access to all new health reports as they are released, without the need to re-test your DNA. The Health subscription also grants you access to all of our advanced DNA features for genealogy that previously required a MyHeritage site subscription (such as viewing family trees of DNA matches, viewing shared matches and ethnicities, and shared ancestral places).
The Health subscription can be canceled at any time.
How to Take the Test
Order the Health  test on our website and it will be shipped to your address. As with our DNA test, the sample is collected with a simple cheek swab. Collecting a DNA sample is very easy and does not involve blood or spit. Activation is required, and at that time a health questionnaire should be filled out.
The kit includes instructions for activation and for the collection of the DNA sample. The sample should then be mailed to our lab for analysis in the cardboard return box. The kit's progress can be tracked on MyHeritage throughout the entire process. The user will be invited to view the results on the MyHeritage site when they are ready. Results are provided in the "Health" section of the website.
Lab Processing Time
Lab processing time for Health  samples is 3–4 weeks. If there are findings in the results that require validation using Sanger sequencing, users will be notified and lab results will be delayed by 2 additional weeks.
MyHeritage DNA customers who upgrade to receive health reports will receive them in a few days if their genealogical DNA test was processed on the GSA chip (i.e. if they received their DNA results in April 2019 or later). Customers who upgrade a genealogical kit that was tested on the former Omni chip (i.e. they received their results in March 2019 or earlier) will need to wait 3–4 weeks because their DNA sample will need to be processed again on the new GSA chip (which MyHeritage will do at its own additional expense). Note that customers who upgrade will also be required to fill out the health questionnaire, and they may also be subject to a 2-week delay if Sanger sequencing is required.
Availability
The MyHeritage DNA Health  test is available for purchase by consumers aged 18 and older. You may purchase it as a gift for someone else, but note that, unlike a genealogical DNA kit, you cannot manage a health kit for someone else — only the person who is tested can see their health reports and no one else.
The MyHeritage DNA Health  test is available globally, except in a few countries that do not allow health-related consumer genetic testing. In the USA, it is available in all states except New York, New Jersey, and Rhode Island.
Combining health with family history research
As a genealogy company, we believe that family history research and understanding personal health go hand in hand. A portion of a person's health trajectory is hereditary, based on the genes we inherit from our parents, which they inherited from their parents, and so on. The discoveries you can make with your MyHeritage DNA results are even more useful when there is a family tree associated with those results, giving you better insights into your DNA Matches and your health. By knowing your family history, you will be able to gain a deeper understanding of your health within a wider family context, as opposed to just looking at the health of a single individual.
Important Notes
MyHeritage DNA Health  is not a diagnostic test and results may not cover all of the variants associated with a particular condition.
The health product is not intended to independently diagnose, prevent, or treat any disease or condition or tell users anything about their current state of health in the absence of medical and clinical information. The product is also not intended for making medical decisions, including prescription or dosing of medications. Users may need to obtain further services from their physician, a genetic counselor, or other healthcare provider, in order to obtain diagnostic results regarding the conditions or diseases indicated within the MyHeritage DNA health reports. The health reports provide genetic risk information based on assessment of specific genetic variants but do not report on users' entire genetic profile. The health reports do not detect all genetic variants related to a given disease, and the absence of a variant tested does not rule out the presence of other genetic variants that may be related to the disease. For most diseases, currently known genes are only responsible for a portion of the overall risk. Other factors such as environment and lifestyle may affect the risk of developing a given disease and, depending on the condition, may be more relevant predictors. If a user's data indicate that the user is not at elevated genetic risk for a disease or condition, this should not be interpreted as meaning that the user is safe from developing the disease or condition. The opposite is also true; if a user's data indicates that the user is at an elevated genetic risk for a disease or condition, it does not mean that the user will develop the disease or condition. Any findings within the health reports should be confirmed and supplemented by additional medical and clinical testing as recommended by the user's healthcare provider.
Certain conditions may be excluded from the user's health reports based on the user's ethnicity, or personal and family health history. As this test looks at only some of the variants for a condition, having a personal or family health history of the condition may warrant more thorough testing. If certain reports are excluded, or if the user has a family history of one or more of the conditions we test for, the user should speak to a genetic counselor or a healthcare provider to discuss whether additional testing, screening, and/or evaluation may be appropriate.
Learn more by reviewing our Terms and Conditions.